Since I have been away on a nice 'vacation' from kibbutz and my computer for just about a week, so much has happened that I can't wait to share!
After taking a day off last Wednesday to recover from a cold/ sore throat I caught over Yom Haatzmaut, and a day at work painting and doing irrigation work, I was just about ready to head off on my week of fun in Jerusalem and all over the northern part of Israel.
I first got packed for Shabbat and took an extra bag filled with along that Rabbi Bauman graciously agreed to take back to Toronto with him. I left for Jerusalem Friday Morning, and lucked out when I got to the bus stop outside Kibbutz and a few minutes later, after two sheruyot going to Tel Aviv drove by, I was extremely lucky to have one stop going to Jerusalem which was nearly empty. In case you're not familiar, a sherut (literally meaning 'service') is a shared taxi, usually seating ten people that runs between cities and sometimes within them, for a slightly cheaper, quicker and more comfortable ride than the corresponding bus. I arrived in Jerusalem at the central bus station and in the end decided to take a bus, despite it being a pain in the neck as a result of it being packed and me having a huge suitcase, in order to meet Rabbi Bauman downtown at King George and Yafo. I found him right away, and we immediately went to Meah Shearim to make some small book purchases, which I always enjoy doing, especially with a friend. After we finished up there, we walked back Downtown and had a delicious lunch of Hummus basar (with meat) at Pinati, where I hadn't been for months. One could tell that it is truly spring, with the sight of Pinati's screened in porch totally dismantled and outdoor tables set up in its place. After lunch, we walked down King George and Keren Hayesod streets, and ended
up at Rabbi Bauman's hotel room at the Inbal. We spent the rest of the afternoon relaxing and hanging out, and later on, we showered and got ready for Shabbat. Friday night, we took a leisurely walk down the street, past the President's residence (former home of Moshe Katzav) and museum of Islamic art to Yakar. Although I've davened at Yakar a few times before, this was the first time going to the downstairs minyan, which attracts a slightly older crowd (people in their thirties and up) and has a bit slower tempo than the upstairs service. Although many times I enjoy a joyous, fast-paced service on erev Shabbat, its also nice to have a change sometimes and it was nice to try something different. We walked back to the hotel and went to the dining room, to have a delicious and enjoyable Shabbat dinner.
On Shabbat morning we woke up and walked over to daven at the Ashkenazi shul in Yemin Moshe, where I would go every once in a while during first semester. Tefillot were pretty nice, and started at and were finished by . The shul was packed with an Aish Hatorah group from Washington and a Schechter group from Cleveland, so although they had quite a delicious Kiddush as usual, it was pretty hard to get in and get food. We got back to the hotel around eleven and soon found out that lunch didn't begin until one, which gave us plenty of time to take a Shabbat nap before eating. Lunch was a buffet, and just as delicious as the night before, with plenty of meat for my taste. After benching, we went back to the room and relaxed for a few hours. Around 6 in the evening, we figured we'd go somewhere and daven mincha, and the first place to try is the large Beit Knesset on Chovevei Tzion Street. We were about forty five minutes early, but it was no loss, as we both took advantage of the library of ספרים (Jewish books) at our fingertips. The mincha service was a nice surprise, as the leader used the perfect nusach for the entire service, and the Torah reading was also superb. One other amazing thing about the shul was a plaque I noticed the front, that all of the furnishings within, including the beautiful wooden benches and shtenders, ark and chandeliers came from a synagogue that closed down near Parma, Italy and were donated the state of Israel. I felt very privileged to be able to daven in this shul with such an amazing history. When we got back to the hotel, it was starting to get dark, so Rabbi Bauman and I sat in the lobby and chatted until Shabbat ended, which brings me to one of the most amazing stories of the Shabbat. As it came time to daven Maariv, we looked for the hotel synagogue, which we had trouble finding, and soon gave up and just decided to daven on our own on the hotel's lower level. However, just we were about to start, a young man in a suit ran over to us and informed us that his family was trying to have a minyan, and were one person short. We ran up to his family's room, a suite on the seventh floor, and on the way learned that his family was Sephardic and originally from Panama. We got to the room and after the family thanked us, the family patriarch moved to the front of the room and began to lead the entire sefardic Maariv service from memory, without needing a siddur or any help, which was quite impressive to see and experience. After Maariv, we went out onto the balcony and conducted the קידוש לבנה (sanctification of the new moon), which was beautiful to do overlooking the city of Jerusalem.
We then went back inside for Havdalah, which the patriarch again conducted from memory. The sefardic havdalah has a few differences from the traditional Ashkenazi one I am used to. The major ones are that the service is done seated and usually around a table, and seondly, that the text of their introductory paragraph is totally different. Although I also find the Ashkenazi liturgy to be meaningful, what struck me about the sefardi version is the theme of their prayer, asking God's blessings of success as we move from the comfort of Shabbat into the unknown of the week to come. Part of it reads:
הַצְלִיחֵנוּ. הַצְלִיחַ דְּרָכֵינוּ. הַצְלִיחַ לִמּוּדֵינוּ.
וּשְׁלַח בְּרָכָה רְוָחָה וְהַצְלָחָה בְּכָל מַעֲשֵׂה יָדֵינוּ.
Grant us success, in our journeys and our learning, and send plentiful blessing and success in the work of our hands…
May we all merit having this blessing come true as Shabbat ends and we move into the coming week of creative work.
After these beautiful tefillot, I unfortunately had to rush and pack my stuff up, so I could catch a bus to the tachana mercazit and then another one back to kibbutz. As a nice surprise, I ran into my staff Mike and friend Sarah, and we chatted on the hour bus ride home and walk back to kibbutz. When I got back I quickly unpacked, and then repacked for our weeklong טיול צפון (Northern Tiyul) which would begin the next morning.
~~~~~~~~~~~~~~~~
We pulled out of Kibbutz around on Sunday morning, after eating and davening, headed in the direction of the Arozolov train station in Tel Aviv, where we stopped to pick up the rest of our group who had spent Shbbat elsewhere. When I went in to the building to use the washroom, I noticed a sign that newspapers were on sale for just 2 ₪ (about 65 cents Canadian), and bought a copy of Maariv. It sure kept me busy on the bus, as it contained information leaked to the press about the Winograd commission report, which as you've probably heard, criticizes the government for its handling of the war in Lebanon during the summer and personally criticizes the chief of staff, defence minister and prime minister. These political stories continued to unfold throughout the week, thus we continued to discuss them throughout tiyul. We left Tel Aviv and
drove about an hour north to the town of Zichron Yaakov, which reminded me of many quaint villiages I had visited in North America, except for the fact that it was founded in 1882 by Baron de Rothschild and had a distinctly Hebrew/Jewish flavour. We had a little free time to walk around the beautiful town, and were given a lunch of salatim and schnitzel at a restaurant. After lunch, we got back on the bus and drove a little over an hour towards the northern border and hiked Nachal Betzet, a beautiful and shady hike in a valley just south of
the Lebanese border not too far from Rosh Hanikra. This hike brought back great memories, since I also did it almost two years ago on Pilgrimage, and I made out pretty well, hiking pretty close to the front and keeping up with Yossi. After the three hour hike ended, we davened Mincha and got back on the buses to head to Achziv, a cottage colony located right on the Mediterranean shore between Rosh Haniqra and Nahariya.
After putting my stuff in our cabin, I went over with a friend across the street to walk on the beach and watch the sunset over the sea, which was pretty cool and beautiful. We had dinner, which was – schnitzel again! and I called it an early night pretty soon after I davened Maariv.
The next morning, we davened Shacharit and had breakfast, and soon we were back on the bus and driving toward kibbutz Yifat, where we visited a living history museum depicting the period of the early kibbutzim and moshavim in Northern Israel.
We had a pretty interesting tour, which ended with a lunch which was supposed to recreate the food that the early pioneers ate. The food wasn't too tasty, but it seemed pretty authentic. After lunch, we got back on the bus and drove north to the area of Meron. I fell asleep, and when I woke up we were in a traffic jam. The reason, as I soon found out was that we were getting close to Meron, home of the grave of Rabbi Shimon Bar Yochai (Rashbi), and the police had already started to prepare for a crowd of a
quarter of a million expected in anticipation of Lag Baomer. After a while of driving around and not really getting too far, we finally got off the bus and walked the rest of the way up to the tomb. We spent a few minutes at the gravesite discussing its significance, and then began our hike for the day, another mostly shady one through Nachal Meron and Nachal Amud. The hike was a little harder than the previous day's especially the steep ascent we had at the end, but thanks to my friends I made it out with a lot of effort and just a few scratches.
The hike ended just below the city of S'fat, which I could tell (besides for the modern buildings) by the fact that
there was a makeshift mikvah, with clothing hooks and all, built under a highway overpass we walked by. We davened Mincha as a group as the sun was beginning to set over mount meron, and drove to our accommodations for the next three nights at the Ha'on holiday village, another vacation colony on the southeastern shore of the
kinneret. We arrived close to eight, and had a pretty good fleichig dinner at the hotel. We then got our room keys, had an optional Maariv, and again got to sleep pretty early.
On Tuesday after davening and breakfast we split into two groups, myself choosing the easier hike, and we boarded the bus for the drive to Metulla, a beautiful town which sits right on the border with Lebanon. Before starting our hike, we drove to Mitzpe Dado, and overlook point where we could see both Israel and Lebanon for miles. (Unfortunately, my camera ran out of batteries at this point, so I'll try to gather some other images to complement the text) We then began our hike through Nachal Ayun, which runs between the eastern edge of Metulla and the Lebanese border. It was a relatively short and easy hike, but included three beautiful waterfalls along its course. After the hike we drove over to the city of Katzrin, known as the capital of the Golan, for lunch at an Asian restaurant called Chi Thai located at a mall there. After lunch, we had one of the most exciting parts of the day, a tour of the Golan Heights Winery, which is located in an industrial park just behind the mall. The tour began with a flashy video, and then continued with a view of the oak aging casks, and then the cool bottling and packing machines. The tour ended with a formal wine tasting, where we got to try a semi-dry white wine, a dry merlot, and a swell Muscat dessert wine. It was pretty exciting to be at an age when we are old enough and mature enough to this as a group. After we finished at the winery, we got back on the bus and drove to a site on the Jordan river just a few kilometres north of the Kinneret to go kayaking. Although I don't have the best coordination, I went in a 2 person kayak with my friend Ilana and we ended up doing pretty well and actually finished second out of all the kayaks and rafts. We waited for a while for everyone to finish, and then we went back to Haon for a few minutes to unpack from the day.
That night, we had a free evening in Teverya, and I went with a group of friends to a nice meat restaurant called Decks on a pier on the kinneret for dinner, where I ordered a lamb rib in honour of Pesach Sheni. After dinner, three friends and I took advantage of being in the holy city (one of four in Israel, the others being Jerusalem, S'fat and Hebron), and went to visit the grave of the רמב''ם
(Maimonides), which was just a few blocks from the shore. The tomb was actually a really beautiful complex, even in the dark, starting with the fourteen pillars on the walkway leading up to the actual grave, commemorating the fourteen sections of his magnum opus, the Mishne Torah – Code of Jewish Law. We davened Maariv there, and then spent a few minutes walking around the gravesite, and visting the other graves marked there, including the Rambam's father Maimon, and a number of Talmudic sages supposedly buried there, including Rabbi Yochanan ben Zakkai. It was soon time to leave and meet the rest of the group, but we were in for quite a surprise when we got to the meeting place and saw a Nachman-mobile, a van driven by breslov chassdim who blast their music and invite onlookers to join in and dance. We decided that there was no reason not to join them, and for fifteen minutes most of group was dancing the night away. It was pretty crazy and intense. By the time we got on the bus and drove around the kinneret to go back to our hotel, it was already past eleven, and definitely time to call it a night.
The next morning there were again two hike options, and because the harder one included rapelling, jumping and swimming, it definitely made sense for me to do the easier one, which was still pretty challenging. We davened shacharit, had breakfast, and then headed off to Nachal Zavitan, the upper part of which would be our hike for the day. This hike was especially challenging for me because at least fifty percent of it wasn't on a path at all, but rather on rocks, many of them unstable, but I'm glad to say I made through the hike pretty well. Towards the end, we stopped to eat lunch at the site of a pretty beautiful and impressive waterfall. After we finished hike, around , we drove down to the kinneret and spent a few hours at the Luna Gal water park, which I had actually visited with my family on my first trip to Israel nearly six years ago. Although I'm not a big water slide person, I still had a good time going in the pool and relaxing in the sun. Around , we went back to Ha'on and had a little while nap and relax until dinner.
After dinner, which was pretty good meat again, we had another evening out, this time at Hammat Gader, an Ancient sulfur hot springs known since the Romans, and which is now a fashionable Israeli Spa.
Thursday morning began as usual with Shacharit, and it was a nice surprise to find out that the hotel actually had a sefer Torah. It was pretty neat that it was a sefardi Torah, which is stored in a wooden case instead of a cover. Since I knew the Torah reading, I got to read Torah and it was pretty neat. We then had breakfast, packed, and loaded the buses. Before we left, I made sure to buy a newspaper in Hebrew again, and that day turned out to be a pretty big news day again, as the backlash against the government continued, with a huge rally planned in Kikar Rabin in Tel Aviv (which ended up attracting close to 200,000), and the accusing of Azmi Bashara, a former arab member of Knesset, of treason against the state.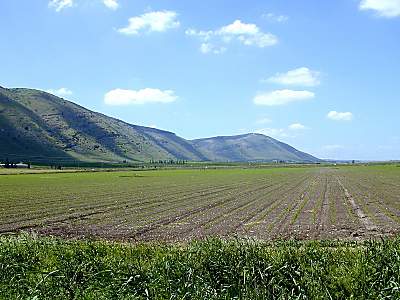 We left Haon, and drove through the Jordan River valley and Beit Shean to the Summit of the Gilboa Mountains. Around , we arrived and began descending the mountain on what began as a path but soon turned into just series of rocks to climb down onto. Unfortunately, this doesn't come so easily to me, but my friend Shayna helped me out each step of the way, both physically and morally. After successfully completing the hike, we got our reward as we drove to the
Sachne natural springs just five minutes away from the base of the mountain. We arrived and were treated to a hot Chinese lunch, after which we had time to swim in the refreshing waters of the pools. After saying goodbye to everyone, I boarded a bus that took me and a few others back to kibbutz. I even made it back for mincha, after which we had a deli dinner. I had a relaxing day for Friday, and am looking forward to another nice Shabbat.
שבת שלום!