While this quote is definitely a good overall description of
Jerusalem
's special character, this post, covering the beginning of my week on my own in the city, which besides for being special and spiritual the center of world attention, is just a cool place to hang out.
Motzei Shabbat, I left the hotel and schlepped with my bags over to Rechov Hamelech George, and after waiting for a few minutes, caught an articulated #14 bus to my chevruta (study partner) Miron and Naomi's apartment right on the happening street of Emek Refaim. After catching up a bit, I went down the street and met my friend Yoni Zierler, who I had been close with in preschool and hadn't seen for about 12 years. We had dinner at New Deli, and spent a while catching up and hearing about his time in the army, as he had officially made aliyah. It's just one of the amazing things about Jerusalem, how many people you can run into or catch up with, even without having seen them for years.
On Sunday morning, I went back to the Conservative Yeshiva after a six-month hiatus. I arrived in time for davening at , just like old times. After tefillot, Reb Mordechai Silverstein, of my favorite teachers, gave a dvar tefillah, and I went across the street to supersol to grab some breakfast and also took the opportunity to do laundry at Beit Nativ. Just like old times, I went right back into Dr. Josh Kulp's Talmud class, learning in chevruta with Miron and Rabbi Marvin Richardson, a close friend of the family. Although JTS in no Jewish wasteland, it's just so nice to be back in this amazing place and learning torah lishmah. For lunch, I ran across the street and got some pita and hummus (whose label assured me that it was extra kosher for the shmitta (sabbatical) year. After mincha, I was sitting in the Beit midrash checking my email and my friend from back home in Toronto, Naomi Cooperman, who is on Nativ this year, sent me an instant message. In turned out that she was sitting a few dozen feet away in Beit Nativ, so I ran upstairs to say hello and we hung out for a while. I also got to see Reena Saks and her parents, who are close family friends and used to live in Philadelphia when I did.
In went back to the Yeshiva for Maariv, and in the evening, had dinner at Tal Bagel with some friends from Toronto (Shira Zeliger, New York (Ben Herman), and both (Rina Goldberg).
Monday was another busy day, with Talmud in the morning (when I learned with Shira), a pizza lunch sponsored by the AJULA (aka University of Judaism). After lunch, I took a walk and noticed of the first signs of the event of the week (and the year to date), the first visit of George W. Bush to Israel (albeit less than a year before he leaves office). Although I'll admit that I'm not his biggest fan, it is still a historic (yet somewhat annoying) time to be in Jerusalem. In any case, the first sign that I saw to welcome Bush was the official renaming of Kikar Paris (Paris Square), right between the Fuchsburg Center for Conservative Judaism and the Prime Minister's house, to 'Freedom for Jonathan Pollard Square' by the Jerusalem City Council indefinitely until his release. Although it is possible to argue about whether Pollard deserved jail time or not, the 23 years he has been imprisoned is one of the longest ever for spying, especially against a friendly country. The Fuchsburg Ce
nter also put up their own sign welcoming the President (which I was told by Rabbi Lebeau, the director that he waved when he saw it).
That afternoon, I went back to the Yeshiva and attended Midrash class with Reb Mordechai, my favorite midrash teacher. In the evening, I went baxk to Miron and Naomi's, had dinner and relaxed.
Tuesday was another busy day. Being Rosh Chodesh, we had a lovely davening in the morning, complete with Shacharit led by Reb Pesach Schindler. Tefillot were followed by breakfast with a d'var torah by the dean of the education school at UJ. I spent much of the morning practicing Torah reading, and lunch (of falafel) was provided, along with a talk by Dr. David Breakstone, the Conservative/Masorti movement's representative in the World Zionist Organization/Jewish Agency. After Mincha, I took a bit of a walk to Meah Shearim and bought a few things, and was back at the Yeshiva for Ma'ariv. In the evening, we had a nice relaxed dinner with Naomi's sister, who studies at Pardes.
Wednesday was the 'big day' of Bush's arrival, and even from the moment we stepped out the door to walk over to the Yeshiva, one could tell that things were different. There were very few cars to be seen on the roads, and fewer pedestrians than usual as well. We managed to have a relatively normal day at the Yeshiva, starting with tefillot when I led P'sukei D'zimra (just like old times), and another great morning of Talmud class. On our way from the classroom building back to the beit midrash, it was eerily silent, and there were no cars or pedestrians to be seen on the street. We found out that shortly afterwards, Mr.Bush's procession passed by while we were eating lunch. Lunch came with a talk by Rabbi Charlie Savenor, the assistant dean of the JTS Rabbinical School, who spoke about the history of Kashrut and Coca Cola. After Mincha, I walked across the nearly empty Recho
v Agron to the SuperSol to grab a light snack, and came back with an illustration of the joys of living in a Jewish country- a sufganiyah on sale for the end of the season, and an early Ozen Haman (hamentshen). In the afternoon, I attended our Rosh Yeshiva Reb Shmuel's Halacha class just like old times. After Ma'ariv, I walked back home, which was somewhat difficult, since there were police barricades on both sides of us as we walked down a narrow piece of sidewalk on Keren Hayesod, and required police permission to cross Rechov Hamelech David. After going back to Miron and Naomi's and relaxing for a while after another busy day, I went down the street to get my 5th shawarma at falafel adir, with their special round ציפ'ס (fries).
Thursday was sadly my last day at the Yeshiva until I manage to find my way there again. I left at 7 and made it to the Yeshiva without any trouble or being stopped, though unfortunately there were less people at shacharit than usual. I got hagbah. After breakfast (when I finished the pita and hummus that I had bought for the week), we had chevruta and shiur for Talmud. Following Talmud, it was time for our weekly sicha with our Rosh Yeshiva, Reb Shmuel, who spoke very inspirationally about what makes our 'Conservative Yeshiva' different from those that thrive on coercion, and the special challenges that it entails. After a pizza lunch, we finished the day with Parashat Hashavua and mincha. In the afternoon, I went shopping with Miron at the shuk where I got a few things for myself as well, and then at 'SuperSol Deal,' which is much larger and nicer than the other one, with plenty of free samples as well. (On the way back from the shuk we saw the same huge security presence as yesterday, with police officers on every corner an a radius of barricades both around the Prime Minister's House and the King David Hotel). As another indication of th
e joys of living in a Jewish country, it was great to see the signs all over the produce department saying ט''ו בשבט הגיע (Tu B'ishvat is coming), as well as of course being able to wish the cashier a Shabbat shalom! After we finished at the supermarket, I said goodbye to Miron and Naomi and headed back to the Moshe's home for my final Shabbat in Israel (only until the next one!).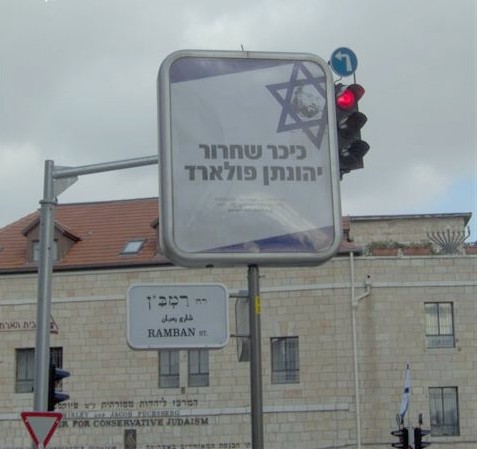 The Conservative Movement and Jonathan Pollard?!
P.S. I as I promised my Hebrew teacher from last semester, Rabbi Joel Roth, I attempted to pick out some grammatical errors in Jerusalem street signs...here's what I found:
נַפְתּלִי was missing the dagesh kal in the tav
הַיֵּרְדֵּן - missing the dagesh hazak in the yod follwing the hey hayediah.
and הַמֶּלֶךְ ג׳וֹרְג׳ was missing the dagesh hazak in the mem. Oh well, maybe dikduk m'dakdek (exact grammar) is a bit of a lost cause.